Return to site
Tech for Good: Build better products, drive sustainable change
9月17(星期四)的晚上,Ladies Who Tech北京的"STEM社交之夜" 重磅回归,我们相聚在SALUD西班牙美食美酒品鉴中心。这是疫情以来我们的首次线下畅饮活动,活动的主题是"科技向善"(Tech for Good)。
Ladies Who Tech Beijing's STEM Drinks Night returned on Thursday, September 17 at SALUD Spanish Food & Wine Center where we celebrated our first offline party since quarantine with the theme "Tech for Good".
"科技向善"重点关注引入科技所带来的GDP以外的收益。 根据麦肯锡报告,当技术应用的重心开始向创新主导增长、技能升级和劳动力流动等方面倾斜,而非单纯地通过自动化来减少劳动力和节省成本时,整体经济和个人福祉都将受益匪浅。 例如,腾讯在今年1月份发布了《千里之行·科技向善2020白皮书》,其内容是针对过去一年"科技向善"在社会各界及诸多领域中的动态与研究。首席执行官马化腾在去年指出,企业应开发技术以服务于人民和社会,并表示这将是腾讯新的愿景和使命。
"Tech for Good" focuses on benefits beyond GDP that technology adoption brings. According to a McKinsey report, good outcomes for the economy overall and for individual well-being come about when technology adoption is focused on innovation-led growth, skills upgrade and labor fluidity rather than purely on labor reduction and cost savings through automation. For example, Tencent released its 2020 whitepaper on "Tech for Good" in January, which included interviews with academics and entrepreneurs, case studies of technology products, as well as development directions to be explored. CEO Pony Ma noted last year that technology should be developed to serve the good of the people and society and announced that "Tech for Good" will be the tech giant's new vision and mission.
我们期待科技能够用以解决社会和环境的主要问题,从而制造出更好的产品和服务,帮助满足人们的需求,保护我们的地球。我们希望可以促进全球科技运动的发展,增加企业家、公民社会、企业、资助者、政策制定者和消费者的需求。我们相信科技在今天不仅是为了满足人类需求而入侵自然的工具,也不再是为了谋取更多商业价值的高级手段,而是让信息和知识更加平等、资源更好的流通、世界更加美好的助力和保障,是企业和个人在漫漫长途中更高阶的生命阶段。
We look forward to seeing the implementation of technology in tackling problems related to our society and environment while creating better products and services and improving well-being in the process. We hope to promote the development of a global technology movement where demands of entrepreneurs, civil society, corporates, funders, policy makers and consumers will be met. We believe technology isn't just a tool to meet human needs or obtain commercial value, but a way to bridge the gap in the technology sector itself, to achieve an inclusive industry with equal opportunities and ultimately a better world.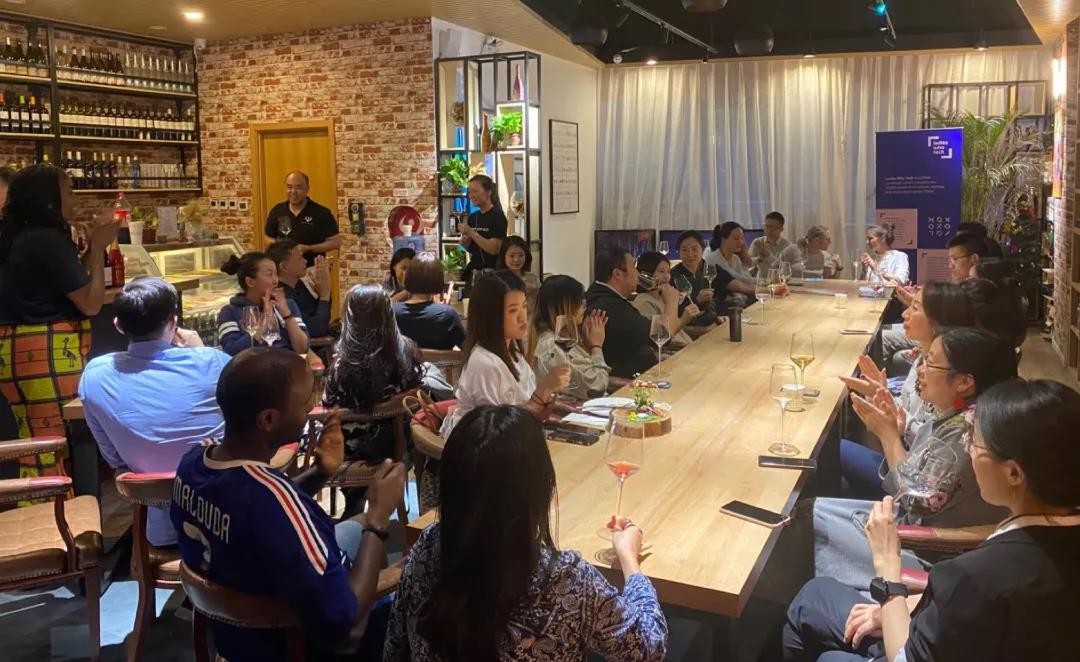 当晚,我们邀请到了B Corps China北京团队的伙伴分享了"共益企业"理念。B Corps是一个由商业领导者组成的社区,秉承"商业向善"来推动人们对待商业的全球运动。B Corps正在加速全球文化的转变,重新定义商业上的成功,建立一个更具包容性和可持续发展的经济。诚如他言,B Corps是一项运动、一场变革,是一种自上而下审视商业本身以及改变世界的决心和力量。
We also invited B Corps China Beijing to shine a light on people and technology that are making the world a better place. B Corps form a community of leaders and drive a global movement of people using business as a force for good. They are accelerating a global culture shift to redefine success in business and build a more inclusive and sustainable economy. B Corps is a movement and a revolution that aims to reshape businesses from the top down and the future environment of responsible businesses around the world.
B Corps China北京团队的伙伴Chris苏荻悦为大家进一步介绍了"共益企业"的概念,并分享了包括Lucky Iron Fish、African Clean Energy、KiNVOLVED、LEAP等多家共益企业的生动案例,让大家更深刻了解到如何利用商业来造福世界。
Chris Su, a member of the B Corps China Beijing team, further introduced cases studies of certified B Corps companies, including Lucky Iron Fish, African Clean Energy, KiNVOLVED and LEAP.
举例来说,缺铁是全球性的健康问题,影响着20亿人口,尤其是发展中国家、贫困地区、边缘群体的妇女和儿童。Lucky Iron Fish,只需将其放入沸水或液体食物中10分钟,就能释放出大量每日所需的铁元素。一条不到50美元(人民币338元)的小铁鱼可以代替1500美元的补铁药剂,从而大大减轻缺铁人群的经济负担。
For instance, iron deficiency is one of the world's biggest nutritional challenges impacting over two billion people. Lucky Iron Fish is designed to simply be dropped in boiling water or liquid based meals for 10 minutes to release a significant portion of a person's daily recommended iron intake. One Lucky Iron Fish that costs US$50 (CNY338) can replace five years of iron pill bottles (US$1,500, CNY10,200), making it an affordable solution especially for those with iron deficiency and anemia.
此外,Chris也跟大家谈到,当下的企业现在越来越关注到不仅仅要创造经济利益,也要创造社会价值。目前已有超过500家B Corps认证企业自发地加入到气候行动中来,为低碳生活贡献力量。
Chris added that today's business culture has shifted, and the role of businesses is to deliver value to all stakeholders, not just shareholders. According to Chris, more than 500 certified B Corps have publicly committed to reducing greenhouse gas emissions to net zero by the year 2030 – 20 years ahead of the targets set in the Paris Agreement.
接下来的环节中,Ladies Who Tech北京分部总监Miatta Momoh向大家介绍了Ladies Who Tech的使命、愿景、组织文化以及相关活动,让来宾们对我们有了更深入的了解。Ladies Who Tech 由从事STEM的女性发起并创立,她们挑战现状,打破偏见,克服种种困难,致力于帮助和鼓励更多的女性觉知自己在STEM领域中的潜力,并加入到她们的队伍中来,以影响和鼓舞更多的STEM女性。我们希望能够提高和加强当今社会对STEM领域女性从业人员所缺乏的认知,帮助企业招聘更多女性从事STEM行业的工作,进而促进公司的多元化发展。而在B Corps认证标准当中,就有对人才方面的考量,性别多元化对于一家企业的发展不容忽视。
Next, Ladies Who Tech Beijing Director, Miatta Momoh introduced our vision and mission, culture, and events to our attendees. Ladies Who Tech was established by women in STEM who challenged the status quo and fought biases while encouraging more women to assist and discover their potential in STEM. We want to raise awareness of the lack of women in STEM industries and help companies attain inclusivity and diversity, which also is a key criteria in obtaining the B Corps certification.
当晚的葡萄酒品鉴活动提供了9款来自西班牙不同产区的酒款供大家自由品鉴,包括Cava、干白、干红、半甜白四种品类。诚挚的希望,我们的资源能够为伙伴们创造一个小契机、打开一扇小窗,来领略西班牙的美酒文化与深邃魅力。作为当晚的活动福利,我们邀请了品酒专家到现场为大家解疑答惑,分享酒文化。例如,专家向大家讲述了如何正确品酒及握杯,正确的饮酒需像是漱口般让舌头的每个部位都接触到美酒,才能全方位的体验酒品最纯正的味道。小伙伴们在品尝美酒的同时,可以向专家请教和交流美酒文化,让格调、文化、情怀错综交互,肆意流动。
The wine-tasting event presented nine types of wines from different regions in Spain, including Cava, dry white, dry red, and semi-sweet white. The structured and educational setting allowed participants to taste the samples properly, learn about the grape varietals and fully immerse in the charm of Spanish wine culture. SALUD's experts, delicious wines and relaxing setting of the bar definitely made the session a highlight of the evening!
活动当晚,在SALUD西班牙美食美酒品鉴中心,活动要求每位嘉宾至少与超过2位陌生小伙伴进行深度交流。当晚参与酒会的嘉宾背景多元,有来自金融、互联网、餐饮、医疗大健康、公益、教育等各个领域的优秀人才。每个人都十分享受和融入我们设计的交流环节,分享着各自的想法并碰撞着灵感和火花,直击我们的预期和初衷。
As participants learned to swirl their glasses in circles to aerate the wine and swishing the sip to cover all areas of the mouth to fully taste the different notes, they were invited to carry out in-depth conversations with at least two new friends. Ideas collided and intellectual conversations flowed thanks to our guests' diverse backgrounds in finance, STEM, food & beverage, medicine and health care, politics and education.
来自蓝蛙Blue Frog的区域经理Lily Yan分享说,她很喜欢这样深度交流的氛围,她也很喜欢西班牙的美酒和文化,并表示自己日后会经常光顾这里;来自阿尔法公社的HR总监Daisy对女性创业很感兴趣,同时也是She Loves Tech的China Scouting Lead,此次前来的目的,也是希望能够和更多的女性创业者深度交流。此外,参与此次活动也不乏毕业于世界名校的青年才俊们,如杜克大学、芝加哥大学、西北大学、南加州大学等。活动逐渐进入尾声,多位小伙伴提到十分期待更多这样的线下聚会,并进行了合影留念,定格这一刻崭新的认知,深刻的相知,和温暖而有意义的时光。
Being a big fan of Spanish wine and food culture, marketing manager of Blue Frog restaurant Lily Yan shared that she enjoyed the warm vibe and unique atmosphere of SALUD and was instantly a fan. Daisy, HR director of Alpha Startup Fund, is interested in female entrepreneurship. As the China Scouting lead of She Loves Tech, she wished to connect with more female entrepreneurs and invite them to join their community. We also have many young talents participating from world-renowned universities, such as Duke University, The University of Chicago, University of Southern California, and Northwestern University. As the party came to an end, a group photo was taken to commemorate the special moment as we look forward to seeing our new friends and connections at the next event.
在Ladies Who Tech社区中,我们相亲相爱,禀力支持,彼此支撑。比如,来自德国的Diana 和Steffi曾经专门从北京飞去上海参加我们的年会。当晚,Diana也与我们分享了一些科技向善的体会:科技为劳动力流动做出了重大贡献,它有效助力企业进行再教育,并对人力资源进行重新布局,最大程度地减少时间和成本。与此同时,也有小伙伴原本在上海社群,来京之后继续参与我们的活动,因为Ladies Who Tech社区带给我们莫大的快乐与温暖,如同家人互相守护和祝福,共同努力。如果你对我们的活动感兴趣,希望更多关注和了解STEM topics,欢迎加入我们Ladies Who Tech Beijing微信群,成为我们的一员吧!
There is no short of support and camaraderie within Ladies Who Tech's community. For instance, our German friends Diana and Steffi flew from Beijing to Shanghai to participate our annual convention. Diana also shared with us that practicing "Tech for Good" can make a significant contribution to workforce fluidity, helping people retrain and businesses redeploy human resources, while minimizing the time and cost. At the same time, those who were originally in our Shanghai community continued supporting our events after moving to Beijing – further proving that our Ladies Who Tech family is everywhere. If you're passionate about women's advancement in STEM industries, join us!