Return to site
Design Thinking Bootcamp: Learning to Build Smarter, Better Solutions
北京时间2020年8月9日,Ladies Who Tech 北京分部诚邀希沛希咨询(北京)公司(CPC)的高级顾问Brigitte Neumann,为我们带来了一场生动的设计思维研讨会。25年前,Brigitte开始了她的管理咨询职业生涯;10年前,她回到德国,为上海一家客户的公司提供咨询服务,不过对方几乎只能讲中文。Brigitte的中文足以支撑对话,却无法深入传递内容。她求助过翻译,但这样的交流方式让听众觉得索然无味。因此,Brigitte将她想要传达的许多信息揉进游戏,用这样的方法使人们更好地体会她想表达的信息。
Brigitte Neumann, a very experienced consultant at CPC, was invited by Ladies Who Tech Beijing on August 9 to deliver a fun-filled workshop on design thinking. Twenty-five years ago, Brigitte started her management consulting career, then 10 years ago, she was back in Germany, but dealt with a consulting client in Shanghai company where very few people spoke other languages than Chinese. Brigitte's Chinese was good enough to keep a conversation running but wasn't not good enough to deliver content. She had somebody help her with the translation, but it turned out really boring for the audience. Hence, Brigitte found ways to wrap a lot of messages she wanted to get across into games, so people can experience what she was saying.
其效果让人出乎意料。在游戏中,参与者们非常积极投入,也能更好地吸收她的信息,这给Brigitte提供了一个构建系统的思路:她可以将自己丰富的经验打包在训练计划中。从那以后,她举办了多场设计思维培训,并鼓励参与者利用他们的工作场地举办这样的研讨会。
The result was amazing. Participants were active in their responses and able to absorb her messages much better, giving Brigitte a way to build a system where she could put all her experiences into a training plan. Since then, she has been hosting design thinking trainings and encouraging participants to use their workplaces to host workshops.
设计思维的步骤 The process of design thinking
 
设计思维在硅谷并不只是一个时髦的词。在美国和中国,众多IT企业在优先考虑消费者的需求,并强调设计师和用户之间的合作。这种创造性解决问题的过程,已经深入大多数中美IT企业的核心。
Design thinking isn't just a buzzword in Silicon Valley. It's a creative problem-solving process at the core of most IT enterprises in the US and China which prioritizes the consumer's needs and emphasizes collaboration between designers and users.
无论您在私人企业或公共部门工作,还是在开展商业或个人项目,我们每个人都能从这个思考过程中受益。通过设计思维,我们可以建立新颖的解决方案,真正服务于我们的社会。
Whether you're working in the private or public sector, on business or personal projects, everyone can benefit from this thinking process. Through design thinking, we can build innovative solutions that really work for our society.
设计思维包括五个阶段:共情思考、创意构思、制作原型、实际测试、以及故事分享。在企业环境中,当我们谋划如何营销某种产品时,人们眼里只有产品,却忽略了使用它的人。Brigitte强调用户核心或客户至上的理念——把自己想象成客户,换位思考。
Design thinking consists of five phases: empathize, ideate, prototype, test to learn and tell your story. In a corporate environment, when teams think about how to market something, they jump straight to the product itself, not people who use it. Brigitte emphasized the idea of user-centric or customer centric – putting yourself in the customers' shoes.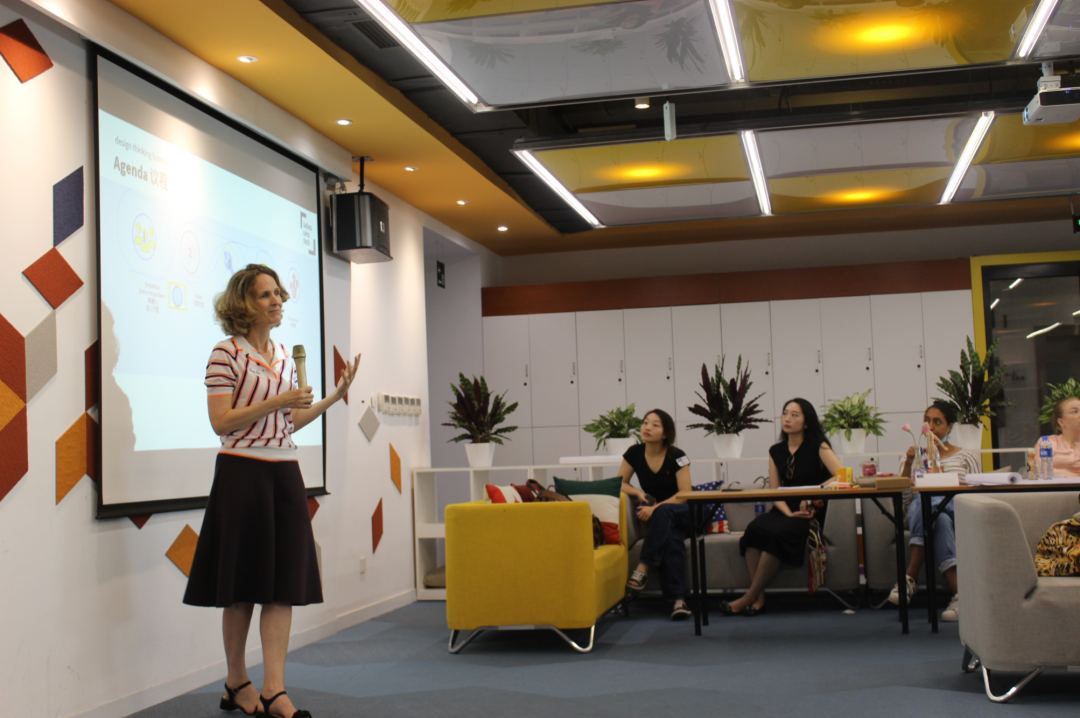 Bridgette谈到了设计师们是如何启动这个过程的。起初,一切皆未可知,请让直觉和灵感肆意去流动。若你有清晰的想法,毫不犹豫地执行它,若你只有粗糙的框架,那就顺其自然,看它会引领你去何方。
Brigitte talked about how designers start the process. As the precise outcome is not clear in the beginning, let your intuition flow. Either you start with a clear idea in mind and execute it, or you can start with a rough idea, let it flow and experience where it takes you.
尊重直觉,这对做出好的决策至关重要,单凭事实是不够的。调动所有感官去创造和想象你的解决方案,去观看,去品味,去觉察。而重中之重,是运用你的双手,赋予方案可以触到的实感。
It is important to involve your gut to make good decisions, since facts are not enough. Use all senses when creating and envision how your solution would look, taste and smell. Most importantly, utilize your hands to make the solution tangible.
有些人天生就充满创造力,而有些人需要时间才能想出好点子;有些人习惯并且喜欢谈论和分享想法,而有些人比较害羞,需要鼓励才能敞开心扉。然而,每个创意都很珍贵——没有愚蠢的想法。唤醒并相信你所拥有的资源和工具,探索如何在它们之间找到最优的平衡,以达到理想效果。
Some people naturally burst with creativity, others need time until ideas pop up. Some people are used to and enjoy talking and sharing ideas, others are shy and appreciate encouragement to open up. However, every idea is important – there are no silly ideas. Tap all resources, understand and embrace the resources you have, utilize the tools you have, and find out how to best balance them for good results.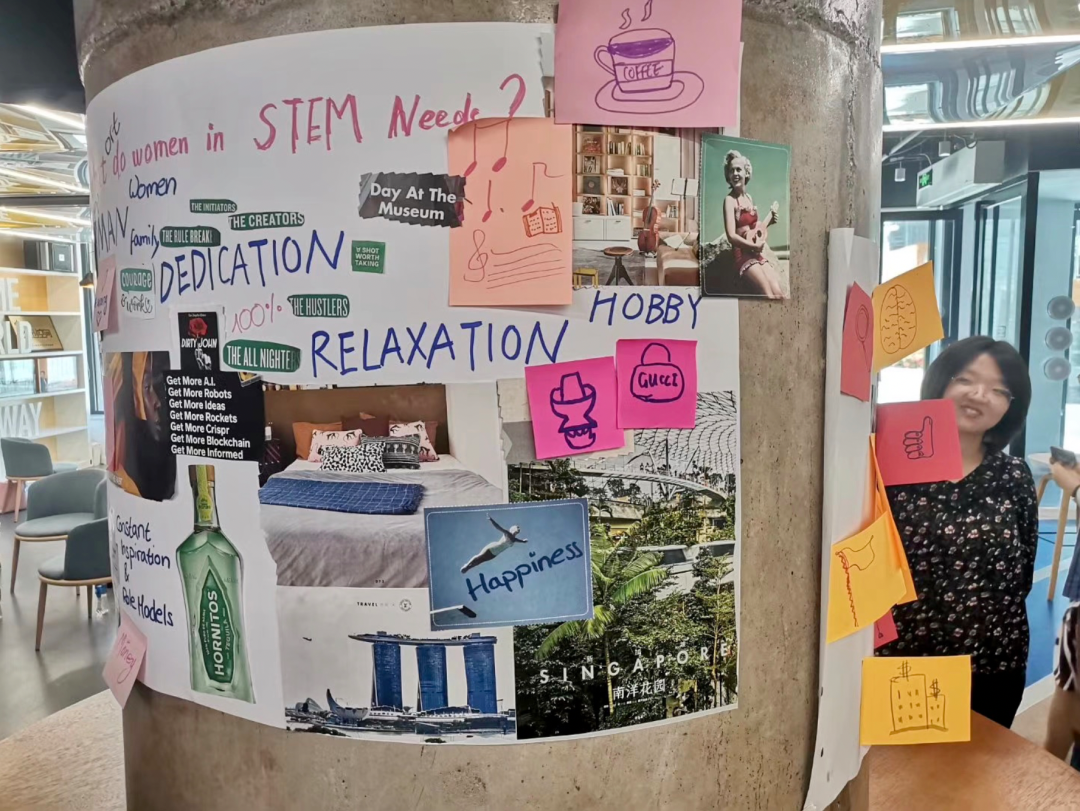 为了更好地领会和实践其事物头脑风暴,Brigitte让每个人挑选一个物件(鞋子、鞋刷、一卷绳子),并尝试向各自的小组解释它与STEM领域的女性有何联系。Brigitte认为,思考在很大程度上并不是创造内容或者解决问题,而是认识到思考本身是什么。
As a way to learn and practice object brainstorm, Brigitte asked everyone to pick an object (shoes, a shoe brush, a roll of string) and explain to their group what it has to do with women in STEM. According to Brigitte, a large part of thinking is not to create content or to find solutions to problems, but to learn what is thinking itself.
在接下来的共情思考练习中,每个小组都会分析STEM领域中的女性在职业发展各个阶段的情绪和心理状态。Brigitte提倡所有人依据事实来进行这项练习,尽量避免既有假设加深刻板印象。之后,在手绘/照片头脑风暴环节中,参与者们从人物角色和他们创作的移情图开始,分组讨论女性在STEM领域所面临的挑战。
For the next empathize exercise, each group identified the emotional and psychological state of women at different stages of their STEM career. Brigitte advocated all to carry out this exercise based on facts, meaning to make as few assumptions as possible to avoid hardening stereotypes. Then, starting from the persona and empathy map they created, each group had a discussion about what challenges do women in STEM face via a drawing or photo brainstorm session.
在展示环节中,美妙的创意接二连三地诞生:有的组从这些女性所处的内部因素和外部环境等方面作为切入点,有的组从工作和生活的平衡、家庭、金钱、娱乐、幸福等方面开始思考。每个人都从其他组听到了不同的声音,并且为向STEM女性提供解决方案这个目标找到了更多创意。
A stream of wonderful ideas resulted during the presentation round: One group started off from internal and external aspects of these women and another group had a point for work life balance, family, money, relaxation, happiness and so on. Everyone found more ideas from other groups and developed more ideas on how to create solutions for women in STEM.
午后,Brigitte介绍了如下设计思维原则:共情思考、创意构思、和实际测试。她重申,设计思维是在错综复杂中找到引航的方法论,然后让每个小组选择一个心仪的领域,并专注于某一个解决方案,利用之前学到的技巧不断完善它,即,用手绘和剪纸图片激发他们的思维。在接下来的故事分享练习中,参与者通过剪切或复制Bikablo简易图,创造出新的符号,对其进行把玩、重组和叙述,不能自拔并乐在其中。
In the afternoon, Brigitte introduced the following design thinking principles: empathy, ideation and experiment. She reiterated that design thinking is a methodology to navigate messy complexity and ambiguity. Every group was advised on choosing one topic area they would like to work on. Then, they focused on one solution and kept refining it using the previous techniques by drawing on scrap paper and letting the pictures inspire their minds. Following a story-telling exercise, our participants enjoyed themselves by playing, rearranging and telling the story via cutting out or copying the bikablo symbols and creating new ones.
接下来的阶段是制作原型,这是一个关于产品的初步样品、模型、或范本,用以评估全新设计,以提升精度。参与者可以随意选择设计一个微信公众号或产品包装盒。小休后,他们进行了测试,收集到用户反馈,并尝试理解哪里需要改进。
Next phase is prototyping, which is an early sample, model or release of a product used to evaluate a new design to enhance precision. Participants could either choose to design a WeChat channel or a packaging for a product. After a short break, they conducted the phase test to learn, where participants received user feedback and tried to understand what improvements should be made.
最后一步是故事分享:围绕你的目标客户,编写一个与之共鸣的故事,这样我们就可以对他们的动机和需求有更深刻而感性的理解。Brigitte提出了亚里斯多德 (Aristotle)的演讲模型,以此来激励参与者,它包含三个部分:可信度(ethos)、情感(pathos)和事实(logos)。考虑到用户的需求,重述我们如何秉承客户至上的方式找到这种解决方案,是至关重要的。
The last step is story telling: Create a compelling narrative around the target audience so that you will develop a deep and emotional understanding of their motivations and needs. Brigitte brought up the Aristotle's model for convincing speech to inspire the groups, which contains three parts: credibility (ethos), emotion (pathos) and facts (logos). Considering the users' needs, it is crucial to re-tell how you came to the solution in a customer-centric way.
在这个亲自动手和基于实践的训练营中,Brigitte帮助我们的参与者充分地理解了设计思维的原则,并促使他们立即将所学到的知识应用在头脑风暴游戏、故事白板设计和原型制作当中。无论成人还是孩童,在场所有人都十分享受工作坊的时光,他们在这里大胆释放了自己的创造力,并超越了自己原本解决问题的能力!
Brigitte helped our participants understand the principles of design thinking and apply the approach right away in brainstorming games, storyboard designs and prototyping through this hands-on, activity-based bootcamp. Both adults and children very much enjoyed the fun-filled workshop as they unleashed their creativity and advanced their problem solving skills!