Return to site
摩根士丹利第五届IT职场女性网络论坛:跳出舒适圈,拥抱新常态
Jump out the comfort zone and embrace the NEW NORM
2020年绝对是需要跳出舒适圈、拥抱新常态的一年。整个世界都在快速作出反应以及努力适应。
The year of 2020 is all about jumping out of the comfort zone and embracing the new norm. The whole world had to react, adapt and respond fast.
今年6月18日,Ladies Who Tech 支持了由摩根士丹利中国信息技术部主办的第五届IT职场女性论坛。这也是此论坛第一次转为线上直播。
On June 18, Ladies Who Tech supported the launch of Morgan Stanley Women in Technology Career Webinar 5.0. This was the first time it's held online via livestreaming.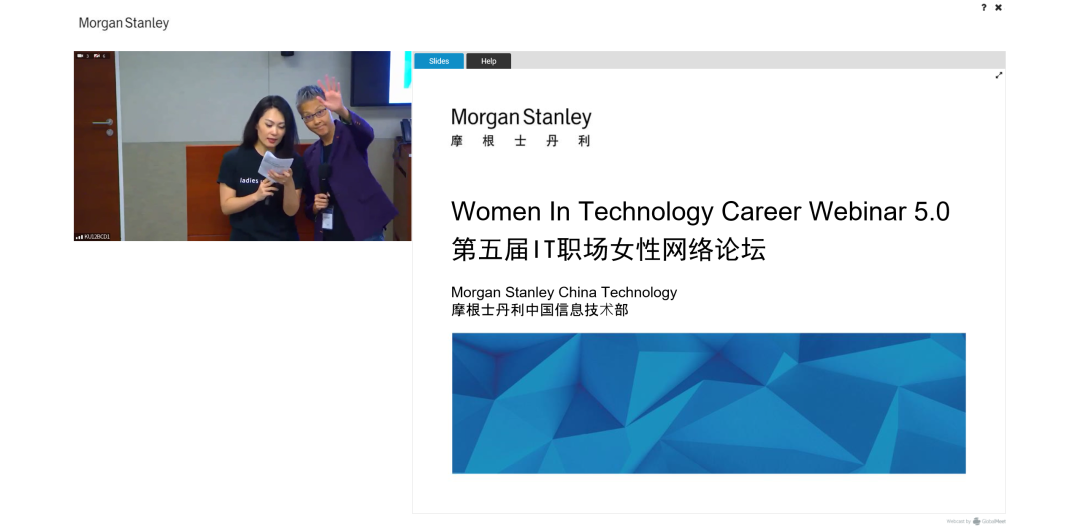 金融科技公司必须敢于打破常规,才能在争取科技人才特别是有经验的女性科技人才方面获得优势。所以金融服务公司在没有线下活动展示的情况下,怎样才能在女性科技人才的竞争中与技术公司匹敌,显得更有吸引力呢?
When Fintech companies compete for tech talents, especially experienced women tech talents, they have to appeal in the way of "breaking the stereotype". How do financial services firms become more attractive in tech company's competition of female tech talent when there is no face-to-face engagement?
摩根士丹利做到了!此次直播吸引了来自金融以及其它行业的不限性别的参与者,大家一起聆听了女性科技从业榜样们以及同盟们的个人及事业之旅。
Morgan Stanley did make it. The webinar attracted participants, regardless of gender, from not only financial but also other industries, to hear stories of personal and career journeys from both women technologist role models and their allies.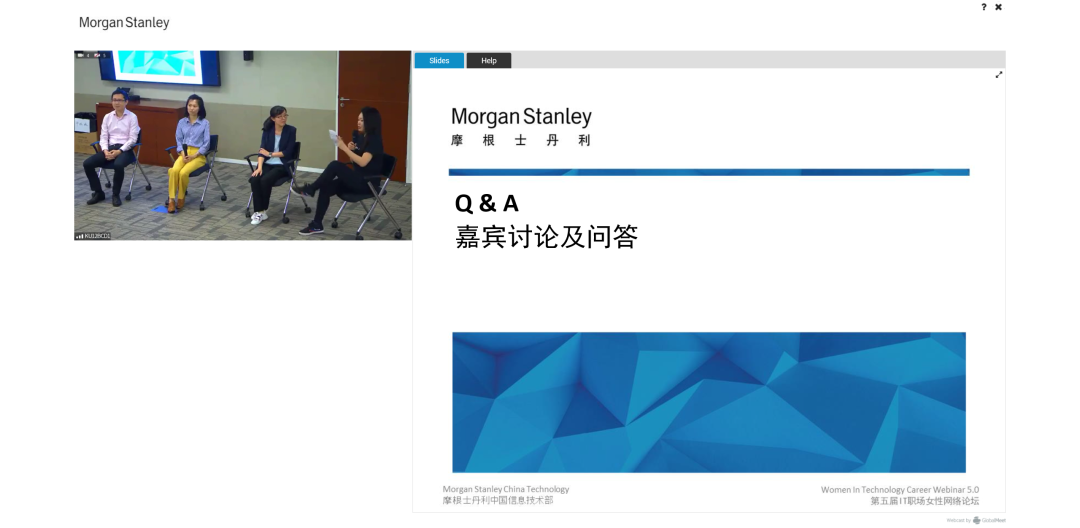 摩根士丹利上海信息技术中心负责人杨晓平强调,摩根士丹利的核心价值观之一就是多元共融,而对不同性别的包容也一直是评判区域管理的重要考量因素。作为同盟和管理者,他通过鼓励更多女性技术工作者加入他的团队来实践摩根士丹利的价值观承诺。
Sean Yang, Head of Shanghai Technology at Morgan Stanley, kicked off the webinar by emphasizing that "commit to diversity and inclusion" is one of the core values to Morgan Stanley, and gender diversity has always been an important consideration on local management agenda. As an ally and a leader, he exemplifies the company's commitment by welcoming and encouraging more women technologists to join his team.
摩根士丹利上海信息技术中心首席行政官Mostafa Afifi分享了他帮助自己生命中重要的女性们克服困难的个人经历。对于他来说,给予生活中以及工作中的女性伙伴力量毋庸置疑可以造福于整个社群。
Mostafa Afifi, Chief Administrative Officer of Shanghai Technology at Morgan Stanley, shared his personal stories on how to support the important women in his life to overcome the challenges that they went through. For him, empowering women both in life and at workplace is unquestionably a natural thing that benefits the whole community.
摩根士丹利副总裁及固定收益跨产品风险系统Scala 平台资深工程师徐扬则分享了一个由她领导的Kaizen项目,并讲述了她如何与摩根士丹利在全世界范围内的150多名开发工程师实现项目合作。从作为团队中的唯一女性到35%的同事都是女性,她见证了摩根士丹利的多元化发展进程。徐扬同时还是一名中短程马拉松爱好者,曾代表摩根士丹利多次参加跑步赛事,并与其他长跑者一起获得了杰出成绩。她的故事启发我们,永远不要因为性别而限制对于自身的想象力。
Yang Xu, VP at Morgan Stanley Shanghai Technology and Senior Scala Developer, did some sharing about a Kaizen project that she leads, as well as how she collaborates with Morgan Stanley's 150 developers all over the world. She has seen how gender diversity has been improving from when she first joined as the only woman in the team to nowadays when 35% of her tech colleagues are women. Yang, also an avid short-to-mid marathon runner, was given numerous opportunities to run representing the company, and earned outstanding achievements together with other runners. Her story leaves us with the inspiration that we should never limit our imagination by our gender identity.
还有你们许多人可能已经见过的刘漪琰,她曾出现在我们拜访摩根士丹利的Vlog中。这次直播活动,她分享了更多享受在摩根士丹利工作的理由。她强调这是因为公司确实非常重视多元化。漪琰可以大胆说出她的想法并从管理层那里获得支持。她不仅有机会加入自己真正感兴趣的项目,也有时间陪伴家人并且不会错过任何重要节假日。漪琰还相信,只要你对科技有热忱,无论背景如何都能获得成功。一个很好的例子就是,她曾经雇用了一位历史与现代艺术专业毕业生,而现在其已经成为一名优秀的软件工程师。
Many of you might have already "met" Yiyan Liu at our recent visit to the Morgan Stanley Office via our VLog. During the webinar, she shared more about why she enjoys working at Morgan Stanley. She highlights that it is because the company really cares about diversity. She adds that she is able to speak up on what she thinks and have the support from her management. Not only does she have the chance to work on interesting projects, but she also has time to spend with family and not miss out any important holidays. Yiyan also believes that if you have the passion for tech, you will make things happen anywhere. One good example she shared on this is that she has recruited someone who studied history and modern art but is now working as a software engineer.
如果你错过了直播,别担心,这不是结束。如果你觉得这会是你的舞台,我们鼓励你申请摩根士丹利的职业机会或者推荐给你的朋友吧!
If you missed the webinar, it's not the end. The story continues. If you think this is the platform for you, then we encourage you to apply for career opportunities at Morgan Stanley or refer your friends to do so!