Return to site
活动回顾 | Ladies Who Tech 与欧洲在蓉外交官共推职场中的性别平等
Recap | Ladies Who Tech Celebrates IWD in Chengdu
3月7日,Ladies Who Tech 联合德国驻成都总领事馆,瑞士驻成都总领事馆,德国巴伐利亚州中国代表处以及奥地利联邦经济对外联络处在雪绒花阿尔卑斯风情餐厅举办"中欧职场和社会中的性别平等"分享会。
Ladies Who Tech Chengdu celebrated International Women's Day with the German Consulate General in Chengdu, Consulate General of Switzerland in Chengdu, Advantage of Austria and State of Bavaria China Office by co-hosting the the Panel Discussion and Networking of Sino-European Experiences and Perspectives on Gender Equality at the Alpine Cultural Centre "Edelweiss" on March 7.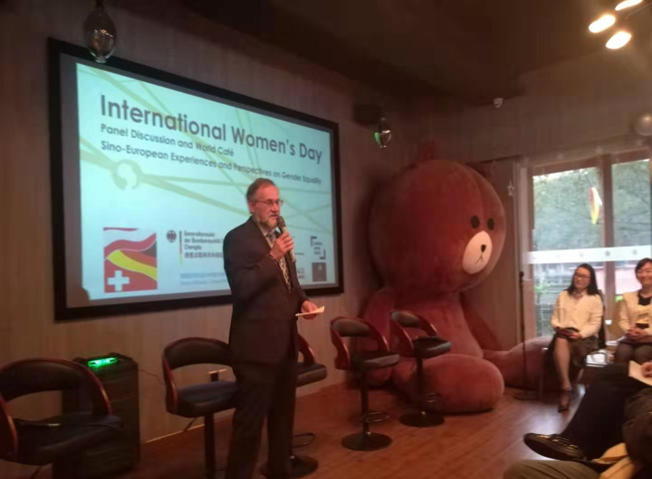 在德国驻成都总领事致辞之后,瑞士驻成都总领事Conny Camenzind, LWT成都区首席代表冯锦月,奥地利驻成都总领事馆商务领事Birgit Murr和来自德国德莎物流成都分公司海空物流部经理Catherine Wen与大家就性别平等主题开始了坦诚地分享。不同国别,不同行业,从服务业到国际政治,从本地初创企业到跨国公司,职业妇女面临各式各样的挑战和机遇,围绕这些话题,嘉宾展开热烈讨论。
The Consul-General of Germany gave the opening address.  Following that, Conny Camenzind, the Consul-General of Switzerland, Cindy Feng, city chapter director of Ladies Who Tech, Birgit Murr from Advantage of Austria, and Catherine Wen from Dachser Shenzhen Co. Ltd shared their thoughts and views on the opportunities and challenges that career women are facing in the context of gender equality under the backgrounds of different countries, cultures, industries and businesses.
应对工作和职业发展中的挑战
Tackling Challenges at Work and in Career
Conny 说在她从事外交工作以前80年代是在银行工作,当她知道作为一个女银行家要想去银行的国外外分支机构工作几乎不可能,就开始寻找其他的雇主能提供到国外工作的机会,于是来到了外交部,从一个部门的助理做起一直到今天变成了总领事。德国外交部总的来说相当给力,为女性提供了平等的就业机会和薪酬,但是由于家庭,孩子等原因女性工作者的比例远远少于男性。
Conny started her career as a trade banker in 1980s but once she was aware that it was impossible to work abroad as a female banker, she decided to leave and explore opportunities of working abroad.  The Foreign Ministry of Switzerland offered this opportunity where she joined as an assistant in the beginning and became Consul-General today.  Comparing with banks, the Foreign Ministry of Switzerland was helpful offering equal job opportunities and salaries.  However, the number of career women is still much lower than men because of women's added responsibilities to starting a family.
Cindy介绍了LWT推广女性平等,促进女性在STEM领域职业发展的社群组织。自己在全球领先的科技公司也接触了很多新兴行业的科技创业公司。当今社会多元化和包容的文化在创业公司中日渐兴起。
Cindy gave an introduction of Ladies Who Tech, an international community promoting career development for women in STEM.  She works at a world-leading high-tech company, where she has the opportunity to build her network of high-tech start-ups and she finds the culture of diversity and inclu-siveness are being increasingly accepted and treasured amongst start-ups.     
Birgit也是为了能到国外工作选择了到奥地利商务部对外联络处从事国际商务交流工作,而对于女性来讲,能通过各种测验考试和男性一起工作非常不容易,而且通过率很低,造成男女数量的巨大差异,纵然规则上平等,再加上女性为了家庭和孩子,会放弃职业发展。同时另一个挑战来自自己,如何通过学习和审视自己让职业发展更进一步。
Birgit shared a similar working experience with Conny when she chose to work abroad in the economic section of the Ministry of Foreign Affairs.  It was quite tough for women working in the male-oriented world.  There was a big discrepancy in the number of working men and women as many women leave their careers for family.  At the same time career women are also confronting challenges within themselves, which is to constantly learn and grow. 
Catherine的最大挑战是如何在短时间里迅速适应全新的城市,打开新的市场,寻找新的合作伙伴,迅速提升公司在新的市场的表现。她通过建立自信,克服种种困难,接触优秀的人来帮助自己应对挑战。
The biggest challenges for Catherine from Dachser was moving to a new city - Chengdu after having lived in Shenzhen for over 17 years.  She had to learn about local culture and market, explore new business partnerships, build a new business profile and improve business performance in a short period of time.  She overcame all those obstacles through growing self-confidence and talking to excellent people around.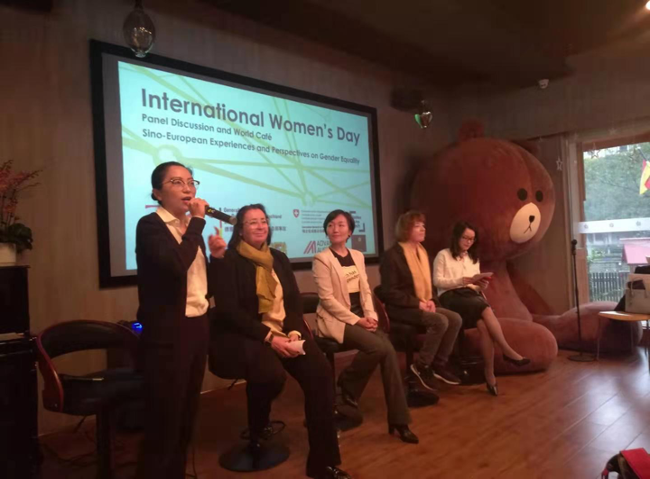 在职场中推进性别平等
Strengthening Gender Equality at the Workplace for Women and Men 
Conny认为女性自身已经付出了更多去争取更好的职位,而社会却做得不够。女性总是会不由自主地怀疑自己是否有能力做到?为此女性总是全力以赴来证明自己。而男性似乎从来没有这样的担忧。因此社会应该帮助女性建立职场中平等的自信,而不同国情需要采取不同方法。
Conny thinks society should do more to strengthen the concept than a woman as an individual.  Women often instinctively question themselves on their own capability when it comes to applying for a job position, while men never have such concerns and pressures.  Society should help women build up the strong confidence of gender equality under various national culture circumstances. 
Cindy 介绍说根据报告在中国女性工作的比例全世界第一。然而女性集中在中层或以下职位,中高领导层仍然由男性占据。每个企业如果能设立性别平等的战略,目标,行动计划,跟踪机制,企业一定能够得到更长远发展。企业管理层需要变得多样化来适应多样化客户的需求。
Cindy pointed out that even though China has the highest number of career women in the world, the number in the management level is quite low.  If a company could set up the strategy, objectives, action plan and tracking system in terms of gender equality, the company would benefit and grow better and further in the long run.  It is well recognised that the diverse members of management would better satisfy the diverse requests from customers.
Birgit也强调女性一定要自信,不要怀疑自己,相比之下,男性更爱展现自己,肯定自己。而职场中的女性应该信念坚定地去争取,哪怕会有矛盾甚至冲突。女性需要用自信和勇气调整自己而不是等待他人或者社会来改变现状。
Birgit emphasised the career women must be confident without self-doubting. Men are comparatively more active to demonstrate themselves with confidence. Women should be assertive even if there would be conflicts as consequences. Women also need courage to adjust themselves rather than waiting others and society to change.
Catherine 从事船运行业20多年,德莎物流深圳公司里也在悄悄改变。很多看来适合女性做的文职工作男性也可以做得很好,相反很多看起来适合男性的技术或者机械操作等工作女性也可以做得十分优秀,目前德莎深圳里这样的女性占据了30%。
Catherine has been working in the shipping industry for over 20 years and she finds that Dachser is also changing gradually on gender equality. Some office work which was thought to be only suitable for women could be well done by men as well. Women are also well qualified for technical work and equipment operation. Women in Dachser has taken over 30% of men's 'old' battle fields.
因此工作本身不需要男女有别,而只需要用能力去衡量和选择,尤其是现在的STEM领域。
In conclusion, work should be decided and evaluated by capability rather than gender, including in STEM.
每个国家有不同的国情,每个企业和组织的文化都不尽相同,但在职场性别平等上都可以有进步的空间,然而女性自己更应该勇敢地追逐自己的梦想,改变自己去争取职场性别平等。3月8日是国际妇女节,2021年的主题是#选择挑战#,希望此活动能激发更多青年女性尤其是STEM领域的职业女性更加坚定自己的梦想和信念,奋力以求性别平等,未来见证自己的成长!
Every country has its own views on gender equality, same as companies and organisations but every group has space for improvement. The theme of 2021 International Women's Day is Choose to Challenge. We hope this panel discussion will inspire young women, particularly in STEM, to embrace your ambitions and drive for your own growth. Go and pursue your dream without hesitation. Strive for gender equality!