Return to site
活动回顾| Ladies Who Tech创始人系列:美丽科技
Recap | Ladies Who Tech Founders Series: Beauty Tech
上周三晚上,Ladies Who Tech举办了以"美丽科技"为主题的创始人系列活动,一起探索了新科技是如何通过提高用户体验来重塑美妆行业的。在这个以客户为中心的行业,全球企业品牌通过科技驱动的个性化定制与用户互动至关重要,这也是许多企业的创新举措之一。近年来,随着中国逐步对外国初创企业开放,新兴国际精品品牌也如雨后春笋般涌现。
Last Wednesday evening, Ladies Who Tech hosted its Founders Series of the year with the theme of Beauty Tech, exploring how emerging technology can reshape the beauty industry through customer experience. In this consumer-centric industry, it is crucial for global corporate brands to engage with consumers by tech-driven customization as one of the many corporate innovation initiatives. Emerging global boutique brands have also grown with China's gradual opening-up to foreign startups in recent years.
当晚活动的第一部分由三位初创品牌创始人主讲,她们分别是芙伦卡妃(Front Cover)品牌创立者Sydney Kuo,Nude by Korea联合创始人Farah Lopez Del Aguila,以及丝芙兰资深全渠道创新经理Chloe Wang。所有主讲人都对科技和可持续性如何在产品战略上发挥更大作用发表了见解。
The first part of the evening featured three speakers who are start-up brand founders - Sydney Kuo, brand owner of Front Cover, and Farah Lopez Del Aguila, co-founder of Nude by Korea; and corporate innovator - Chloe Wang, Senior Omni-Channel Innovation Manager at Sephora. All speakers shared their insights on how tech and sustainability are playing bigger roles in product strategies.
嘉宾演讲过后进行的是导师快速辅导环节。在这个高效又富有成果的一个小时中,导师们做出了精彩的辅导和点评,所有参与者都收获良多。这五位导师分别是:资生堂中国事业创新投资室资深副总裁Carol Zhou、Nude by Korea联合创始人Carina Schaefer、Mood Editing Cosmetics创始人兼首席执行官Gabby YC Chen、丽鑫生技化妆品(上海)有限公司内销业务部门负责人Suzie Liu以及评价达人联合创始人兼首席执行官Vela Song。
Following the speaker's session, participants joined the speed-mentoring session. It was an efficient and fruitful hour in which all participants were able to learn from five different mentors. We heard from Carol Zhou, SVP of Shiseido China Innovation, Carina Schaefer, co-founder of Nude by Korea, Gabby YC Chen, Founder & CEO of Mood Editing Cosmetics, Suzie Liu, Head of Domestic Sales Business Unit, Lee Shin Bio-tech Cosmetics, and Vela Song, Co-Founder, and COO of Pjdaren. It was an engaging time in which novel ideas coming from participants got their next stage of action through mentors' industry insights.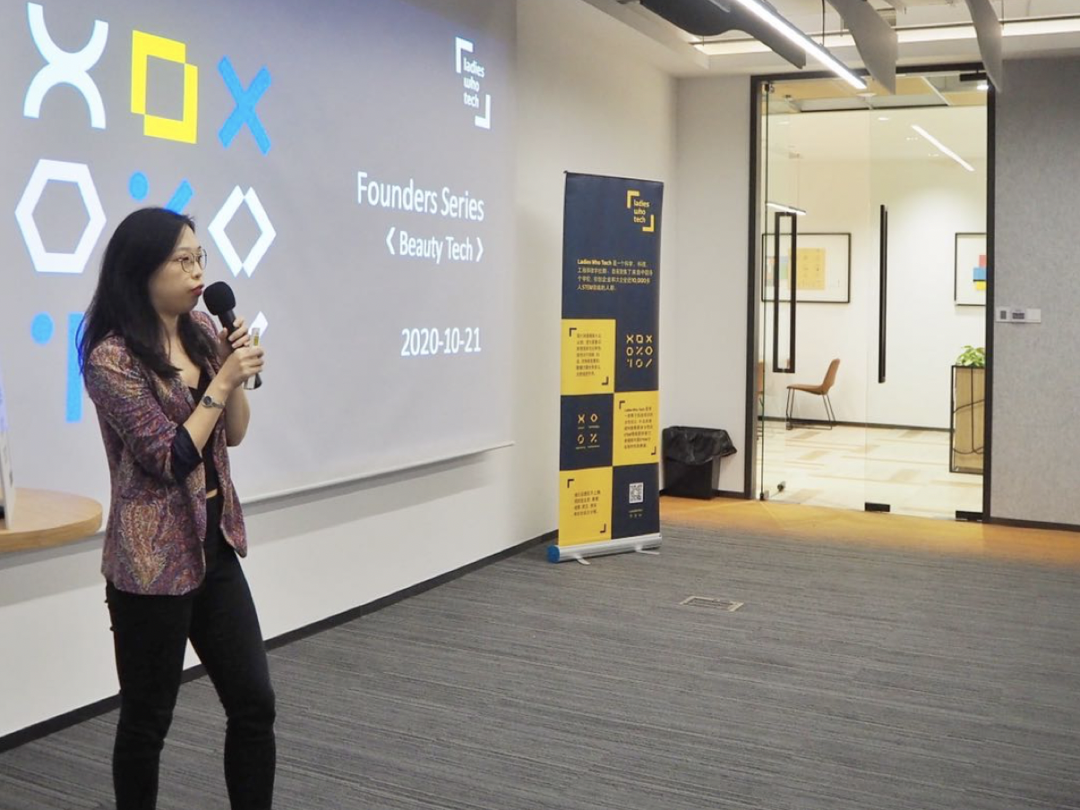 Ladies Who Tech特此感谢所有演讲嘉宾、导师、赞助商、活动组织方以及所有参与该活动的朋友们。感谢大家的共同努力让本次创始人系列活动成为思想、协作和创新汇集和碰撞的平台。
Ladies Who Tech would like to thank all speakers, mentors, sponsors, event organizers, and all participants for putting together this platform that cultivates discussions and collaborations.