Return to site
Ladies Who Tech 武汉圆桌会议· 庆祝国际妇女节
Ladies Who Tech Wuhan Roundtable in Honour of International Women's Day
今年,为庆祝国际妇女节,Ladies Who Tech再次回到武汉,举办了一场庆祝活动。这距离我们与华中科技大学在2019年共同举办——Ladies Who Tech 武汉分部成立活动,已经过去两年了。在3月14日"国际数学日"的圆桌会议上,我们再次感受到了来自华中科技大学教授、学生和校友,以及来自知名科技企业的高管们、初创科技公司创始人们的热烈欢迎。
It has been two years since the Ladies Who Tech Wuhan chapter launch at Huazhong University of Science and Technology in 2019. Ladies Who Tech returned to Wuhan to celebrate International Women's Day by hosting a roundtable on Pi (π) Day, March 14. We invited professors, students, and alumni from the university, executives from tech enterprises, and startup founders to join us.
要打破STEM行业的刻板印象、改变潜意识偏见、普遍实现女性参与到科技领域内的任何职位,我们依然还有很长的路要走。这需要我们每个人为此做出努力,可以是个人、政府、企业、学校,和相关社群等齐心协力的来推动,直到产生真正的变化。在这样的一个愿景下,此次加入我们圆桌讨论的榜样们,来自武汉市当地政府代表、ThoughtWorks武汉办公室、武汉华中科技大学教授和学生代表、拉勾网和当地成功企业代表等,共同探讨我们在武汉市场,如何来做出一定影响力。
The journey is long to break the stereotype and change the unconscious bias in STEM industries to achieve the norm of women's participation in STEM roles. We need everyone's contribution to drive for real change, including individuals, governments, corporations, schools, and communities. Representatives from local government, ThoughtWorks, Wuhan Huazhong University of Science and Technology, Lagou, and local private companies discussed how we all can make an impact together, especially in Wuhan.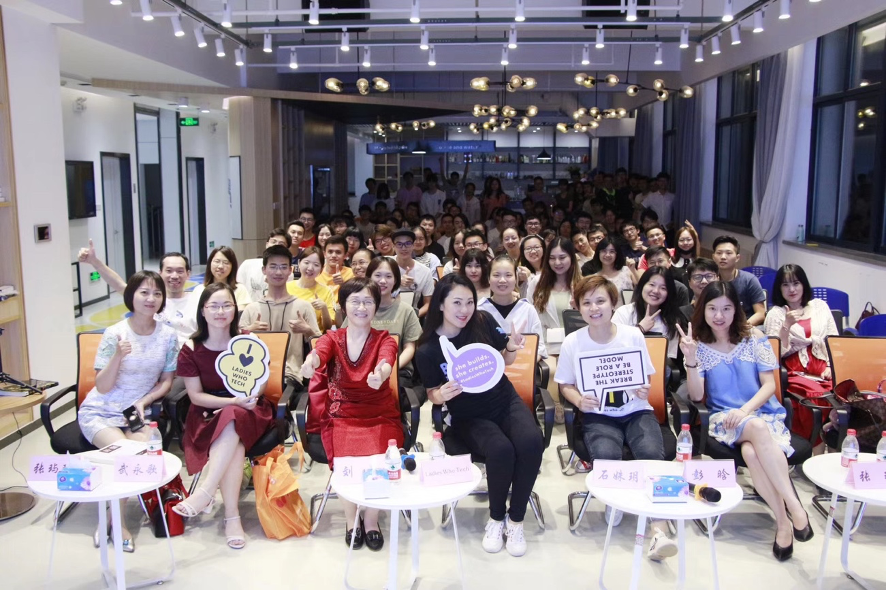 Ladies Who Tech为什么去到武汉?
Why is Ladies Who Tech in Wuhan?
这不仅是因为我们在武汉有一支优秀团队,被我们的使命所驱动,而且武汉是世界上在校学生数量最多的城市,尤其是理工科学校的学生。从目前资料数据来看,武汉市高等教育院校有89所,在校学生高达1300多万人。
Wuhan is home to the highest number of on-campus students in the world, especially tech schools.  There are 89 schools of higher education in Wuhan with over 13 million students on campus.  In addition to that, our amazing team in Wuhan is driven by our mission.   然而,从我们的观察和探讨中来看,
STEM领域的专业内,学生性别比例仍然相差悬殊。有些专业的学生,男女性别比例仍然是10:1,比如软件工程专业
。而那些专业的女生们大学一年级开始,就会为未来找工作的前景而感到忧虑;或她们觉得自己的未来,并不在STEM领域内。因此,部分女生在进入大学后,会选择转专业。在受过高等教育的STEM领域的女性,我们不仅没有足够的就业信息给到她们,而且仅有的一些就业信息也未被及时发现。 However, the gender ratio in STEM studies is still imbalanced.  
Only 1 in 10 female students pursue tech majors such as software engineering
.  Female students who do pursue such tech majors switch to other majors within the first year of studies as they have the impression that they will not be able to find jobs or that STEM studies are not the future for them.  This poses a problem for the workforce pipeline.
Ladies Who Tech认为是时候必须在武汉做些事情了,相信我们不仅可以帮助更多的女孩,在追求她们所热爱的事情上增强自信心,还可以打破刻板印象、让更多的本地公司看到多元化的科技团队所带来的好处,为武汉STEM领域内的女性人才带来更多的跨国公司。
Ladies Who Tech believes we can help female students be more confident in pursuing STEM studies, influence more local companies to see the benefits of having a diverse tech team, and bring more multinational companies to Wuhan to recruit women in STEM talent.
来自武汉当地的一个游戏公司,分享了又一个真实案例:该公司最好的代码工程师是一名女性。当他们雇用她的时候,出于刻板印象,公司确实有过担忧。但是,他们仍然做出了尝试并录取了这位女性代码工程师。结果,那成为了公司的又一大胜利。有了这次成功的经历,他们对于技术职位的招聘,就开启了考虑更多的女性求职者的篇章。
There are many real-life stories on how a gender diverse team is good for business. One local gaming company shared that their best coding engineer is a woman. When they hired her, they had some concerns due to stereotypes, but they still offered her a job, and today she is the company's biggest win. With this successful experience, they are looking to recruit more female candidates for tech roles.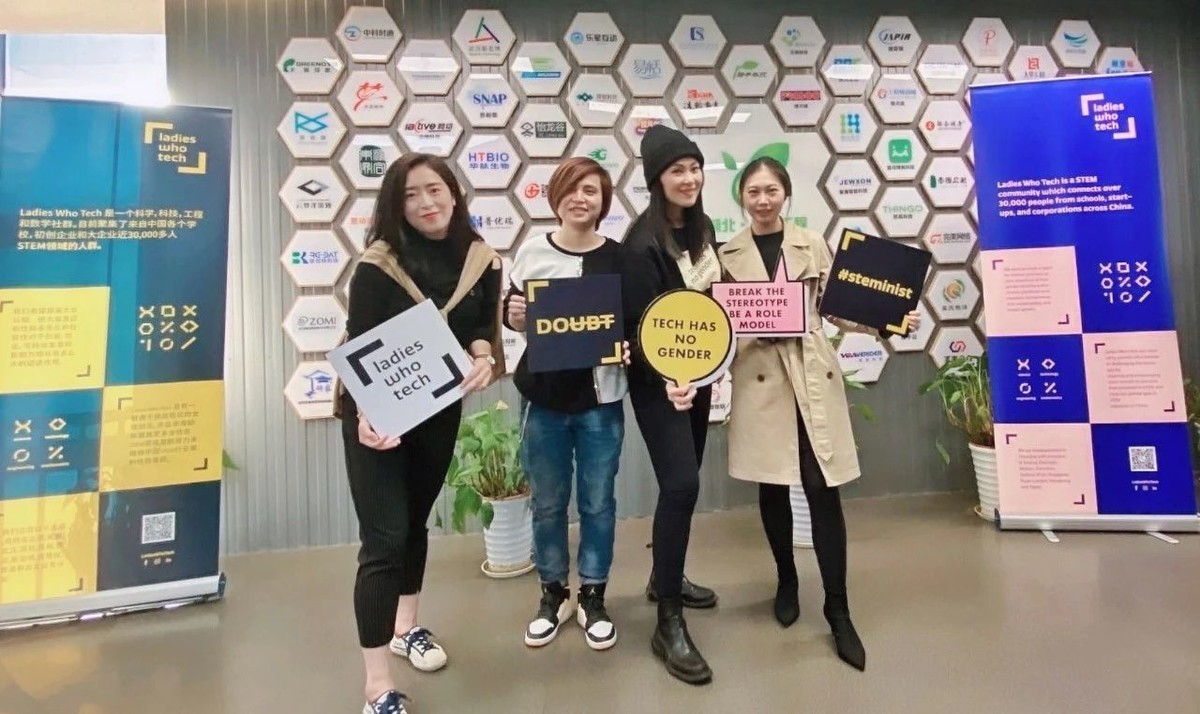 我们想在武汉做出些什么?
What is our plan in Wuhan?
"言必信、行必果"是我们的核心价值观。在活动最后,我们一同分享了关于推进STEM(科学Science,技术Technology,工程Engineering,数学Mathematics)领域性别平等、提升包容性的洞见和举措。
Walk the talk with measurable action is our core value. At the end of the roundtable discussion, we shared how we can work together with local STEM enterprises and startups to promote gender diversity and inclusion.
 1)  Ladies Who Tech榜样力量采访:        
我们将启动武汉榜样系列采访,展示来自武汉的、令人惊叹的榜样故事,带来更多的意识觉醒,以榜样们的建树和经历来激励和启发武汉乃至全球的更多人; 
 2)  Ladies Who Tech招聘会:       
 没有什么比举办一场让企业和求职者见面的招聘会更有意义的了; 
 3)  Ladies Who Tech研讨会:        
关于职业发展和数字技能提升的一系列研讨会。 
 1)     Raise awareness and inspire:         
We plan to kick off the Ladies Who Tech Wuhan Forums to feature role models in Wuhan to share their STEM journey and cool products to inspire locally and globally. 
 2)    Connecting recruiters and talent:         
Ladies Who Tech will host a job fair to connect inclusive companies with female talent.
 3)    Career development:         
The Ladies Who Tech Workshop Series will assist women to be digitally upskilled.