Return to site
Ladies Who Tech 携手德国驻成都总领事馆

"创业力量早餐会"
Startup Power Breakfast @ German Consulate General in Chengdu
7月28日,LWT携手德国驻成都总领事馆举办了"创业力量早餐会",与来自金融科技、机械制造、生物科技、咨询行业的创业企业创始人以及孵化器、投资机构代表们一同分享了在新冠疫情之下创业企业生存与发展的洞见与经验,并寻求中德两国企业更多的合作机会。
On July 28, Ladies Who Tech and the German Consulate General in Chengdu co-hosted a "Startup - Power Breakfast" to share insights and experiences on survival, innovation and development during the Covid-19 pandemic, and to explore more areas of cooperation between companies of the two countries. Participants of the event included startup founders from Fintech, consulting, mechanical manufacturing, Biotech, and representatives of incubators and investment institutions.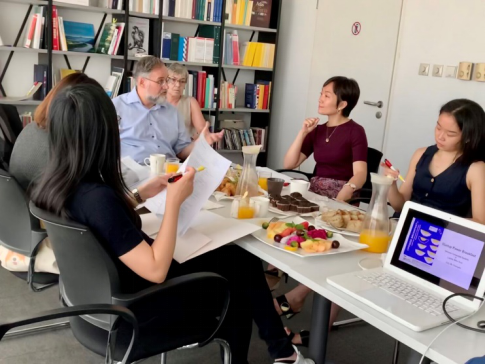 在"窗含西岭千秋雪"的蓉城美景中,总领事Rudischhauser先生以鼓舞人心的致辞开启了本次活动。总领事先生通过对德国、美国、中国创业与科技孵化运作的总结和对比,认为对于一个国家而言,给予创业企业更多帮助,对促进经济快速发展有重要意义。总领事先生还提到,现如今女性对于经济发展的影响已不容忽视,科技领域的女性领导者面对挑战与困难时选择的解决之道往往独辟蹊径、事半功倍。
Consul General, Mr. Wolfgang Rudischhauser, gave an inspiring opening speech to kick-off the event. By comparing startups and incubation businesses operating in Germany, US, and China, Mr. Rudischhauser concluded that helping startups is helping the economy to grow faster. He added that the impact of women within the economy was too strong to be ignored any longer. Female leaders often pursued a different and more successful strategy in overcoming challenges in the field of technology.
在早餐会讨论环节,当谈及"新冠疫情"时,来自成都创业企业的嘉宾们分享了他们在困难中生存与发展的经验,例如削减开支、减少设施、稳定核心团队等,同时,他们表示这也是一个重新审视、思考和重塑企业发展模式的机会。值得注意的是,在世界各国与新冠病毒的战役中,与试剂盒、疫苗有关的产品需求剧增,生物科技创业企业反而成为这场危机中少有的赢家。来自孵化器和投资机构的代表们也分享了他们在新冠疫情之下格外关注的创业企业类型,例如在线教育、在线诊疗等。WeWork还给出代表性例子,由于新冠疫情的旅行限制,纽约大学的中国学生无法返回美国继续学业,NYU为此在上海WeWork建立了一个NYU校园。
In the following discussion, the present representatives of Chengdu's start-ups shared their stories and experiences on survival, such as lowering budgets, reducing facilities, and stabilizing their core teams. At the same time, many considered Covid-19 as a chance to rethink and reshape their own business models and plans. The Biotech industry is one of the big "winners" of the crisis. Revenues have increased significantly since the industry's products such as diagnostic kits and vaccines are in dramatic demand during the fight against Covid-19. Representatives from incubators and investment institutions shared their insights on how many startups have – vis-à-vis the persistent constraints on public life and services - recently ventured into fields such as online medical systems and online education. One participant gave the example of how the NYU created a campus in Shanghai WeWork for those Chinese students who were not able to return and continue their studies in the US due to the current international travel restrictions.
在讨论中,嘉宾们不断表达了他们对于科技行业中女性参与及决策力量的赞赏。来自咨询行业的嘉宾还提到,他们曾经做过调查,一个企业的性别多样性越高,企业所能带来的积极影响力越大。
Moreover, the participants also shared their appreciation of and views on the genuine positive impact of women in technology companies. A representative from a startup consultancy pointed out that, according to their research, gender diversity was good for business.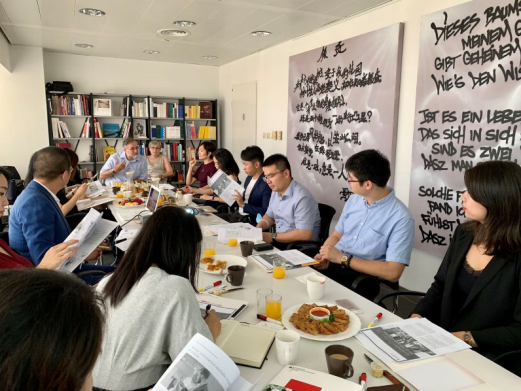 早餐会尾声,总领事先生指出,成都这座城市良好的营商环境远超大多数人的想象,女性力量也将会在科技发展中发挥越来越重要的作用。对当地创业生态的观察,即是对未来的展望。
When the "Power Breakfast" came to an end, Mr. Rudischhauser pointed out that Chengdu is a much more progressive business environment than most people in China and Germany are aware of and, that women have a critical role to play in technology development in both countries.To take a look at our start-up scene means to take a look at our future.
作为创业企业,应对变化与挑战的激情与能力与生俱来,流畅在我们的血液之中,纵然2020年带来了更多的挑战,但我们对未来仍然充满信心,也坚信科技女性随着未来科技发展必将更加大放异彩。
The passion for coping with changes and challenges runs deep in the veins of every start-up. Although 2020 has brought about enormous challenges, we believe that women in tech will continue to thrive along with the future development of technology.