2020年12月26日至27日,由益科技、玛娜数据基金会和深圳市图鸥公益事业发展中心(NGO2.0)联合主办的首届学生科技×公益Hackathon(创客马拉松)在上海举行。这场限时开发竞赛从策划、筹备到落地仅用了不到三个月的时间。一群来自清华大学、宾夕法尼亚大学、莱斯大学、纽约大学等海内外高校的青年人借此将"科技赋能公益"的理念传递给更多的年轻人。
The first Student Technology x Public Welfare Hackathon co-hosted by YIKEJI Tech4Good, Mana Data Foundation, and NGO2.0 was organized in Shanghai on December 26 and 27. This time-boxed app development competition took less than three months from planning to landing. A group of students from Tsinghua University, University of Pennsylvania, Rice University, New York University and other domestic and foreign universities took advantage of this opportunity to spread the idea of "Science and Technology Empower Public Welfare" to more young people.
通过前期调研,益科技团队向一加一残障人公益集团、长沙群英会、玛娜数据基金会收集了公益组织的真实技术需求,并且根据这些需求,设计出了本次竞赛的三个赛题,分别是:通过无障碍交互设计,帮助盲人更便捷地获取信息;设计声音可视化程序,让普通话诵读能力教育得到社会的重视与关注;通过交互设计,让大众提升隐私保护意识、保障个人数据权益短短两天时间,来自不同地区、不同年龄、性别、职业的参赛选手们聚在一起,通过团队协作为需要帮助的群体提供可以实施的解决方案。
By conducting preliminary research, YIKEJI Tech4Good collected the technical requirements from public service organizations: OPO Disability Group, Changsha Qunying Union, and Mana Data Foundation. Based on their needs, three contest topics were identified, they are barrier-free interactive design, to assist blind people to obtain information more conveniently; voice visualization program design, to gain more public concern on the education of mandarin reading capability; interactive design, to raise public awareness on the privacy and personal data protection. In solely two days, contestants from different regions, different ages, genders, and occupations gathered together to provide feasible solutions for groups in need through teamwork.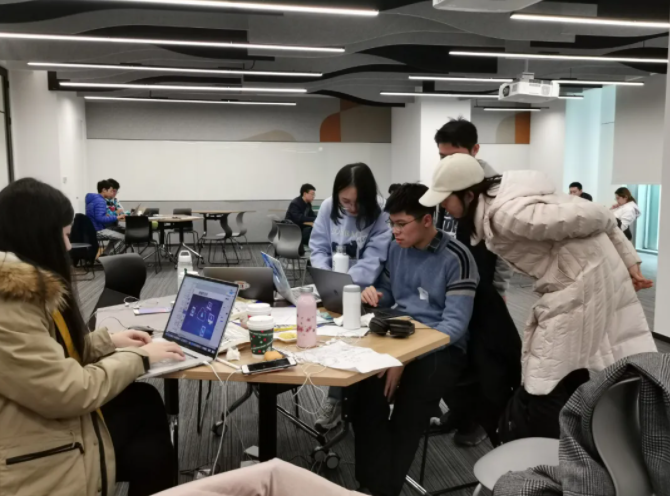 Ladies Who Tech为此次大赛设置了专项奖——最多元化团队(The Most Diversified Team Award)。该奖项的设立旨在鼓励不同性别、年龄、职业、专业背景的参赛者共同组队,以体现团队组织架构的包容性和多样性。通过充分发挥多元性的优势,团队能迸发出更具创造性的灵感,从而更大限度提高团队的协作效率,激发团队的潜能。
Ladies Who Tech set up the special award for this competition – The Most Diverse Team Award. The establishment of this award aims to encourage both male and female participants of all ages with different occupations and education background to form teams together to show inclusion and diversity. By fully bringing advantages of diversity into play, the team could be more creative and productive.
本次最多元化团队的获奖队伍充分体现了这一精神,他们当中年纪最大50岁,最小的是16岁的高中生。团队成员里有来自国际高中、国内大学不同专业的学生,也有工作多年的职场人士。同时,该团队男女生占比50/50。他们选择的参赛主题是无障碍交互设计,帮助盲人便捷获取信息。多元的团队架构帮助他们在很短的时间内迅速认识和确立分工,充分发挥各自的技能优势。最终,他们的设计方案也得到了众多评委的好评。
The most diverse team in this competition has fully reflected this spirit. Among them, the oldest is a 50-year-old entrepreneur and the youngest is a 16-year-old high school student. The team consisted of students with different educational background, as well as experienced professionals who have worked for many years. The gender ratio in the team is 50/50, their selective topic is barrier-free integrative design, to help blind people access information easily. The diverse team structure helps them know each other and establish the tasks assignments in a short time, and fully utilized their own strength. In the end, their design solution received positive feedback from judges.
Ladies Who Tech 一直致力推动STEM领域的性别多样性和包容性,我们倡导更多个人和社群破除对性别、年龄、专业的刻板印象,充分包容并接纳不同身份和背景的人。我们希望能够从Ladies Who Tech开始,给予每一个为自己的身份,尤其是为性别感到焦虑和担忧的人们最大的力量。
Ladies Who Tech is committed to promoting gender diversity and inclusion in STEM. We encourage more people and communities to get rid of stereotypes around gender, age, and profession, to fully accept people of different identities and backgrounds.