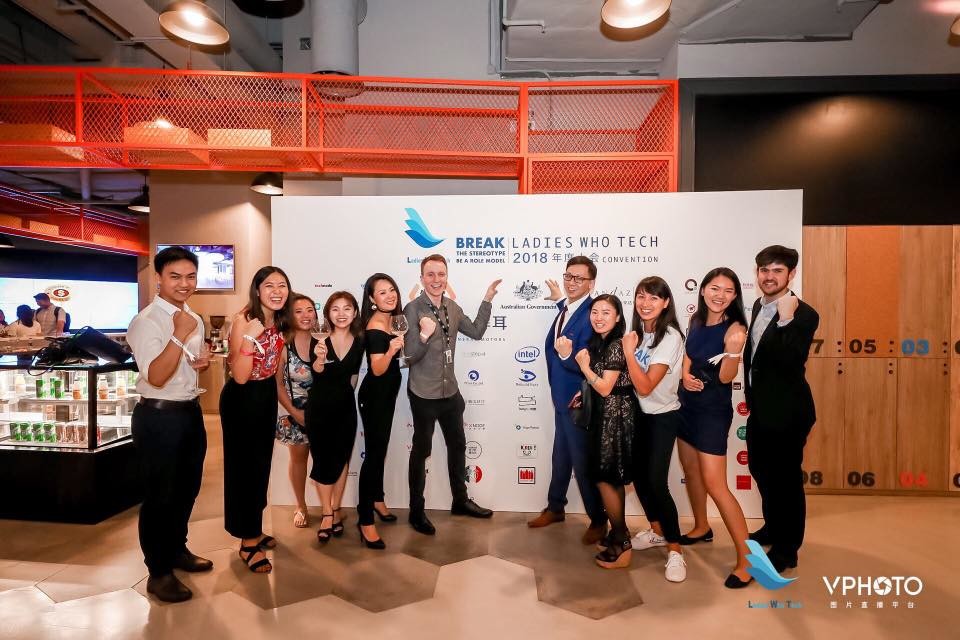 继2018年科技女性年度大会与澳大利亚大使馆的成功合作之后,今年Ladies Who Tech很高兴地宣布本次大会将以"澳大利亚全球校友会"的名义,深入开展与澳大利亚政府间的合作。
Following the Australian Embassy's sponsorship of our inaugural convention last year, Ladies Who Tech is delighted to announce the continuation of this sponsorship this year under the Australia Global Alumni banner!
澳大利亚全球校友会(AGA)创立于2016年,旨在连来自世界各地澳大利亚大学毕业的校友们,支持他们职业目标的实现。
Launched in 2016, the Australia Global Alumni (AGA) network aims to connect and support alumni of Australian universities living all around the world as they strive towards their professional goals.
Ladies Who Tech的联合创始人唐文洁女士是墨尔本大学,莫纳什大学和拉筹伯大学三个世界级澳大利亚大学的校友。通过这次的赞助合作,澳大利亚政府将加强与像唐文洁女士这样澳大利亚大学的校友间的联系,一同支持科学、技术、工程和数学领域的性别平等和科技界女性们的发展。
In fact, Ladies Who Tech co-founder Jill Tang herself is an alumnus of three world-class Australian universities: Melbourne University, Monash University, and La Trobe University. Through their sponsorship, the Australian government aims to foster deeper connections with alumni of Australian universities just like Jill while also supporting gender equality in STEM and the broader Ladies Who Tech community.
澳大利亚国家工业、创新和科技部同样也支持今年的科技女性年度大会,期望借此机会能够促进中澳两国之间的技术与创新的交流。
The Australian Government's Department of Industry, Innovation and Science is also supporting this year's Ladies Who Tech convention to promote further technology and innovation exchanges between Australia and China.
此次合作的亮点之一是,澳大利亚政府将非常自豪地邀请并支持Lily Serna女士出席2019科技女性年度大会。Lily Serna女士是澳大利亚最知名的数学家,科学传播者和数据科学家之一。她此次将专程从悉尼飞到上海,在大会现场发表关于澳大利亚科学、技术、工程和数学领域性别平等和由女性领导的伟大科技发展的主题演讲。
In particular, the Australian Government is proud to support the attendance of Ms. Lily Serna, one of Australia's most well-known mathematicians, science communicators and data scientists. Ms. Serna will travel all the way from Sydney to Shanghai to deliver a keynote address focusing on gender equality in Australia's STEM sectors and stand-out examples of the great tech developed by Australian women.
另外,澳大利亚驻华大使馆工业、创新和科技参赞邦乔安女士也将参加大会的其中一个小组讨论环节。这个环节将重点讨论最近在"世界经济论坛"发布的关于全球性别差距的报告,以及如何缩小这个差距的措施。
Australia's Science and Innovation Counsellor to China, Ms. Joanna Bunting, will also join the convention in a panel discussion focusing on the World Economic Forum's recent Global Gender Gap Report and what measures can be taken to help close the gap.
5月11日星期六,让我们相聚上海新天地安达仕酒店,聆听来自伟大科技女性们的对话!期待与你不见不散!
Join us and take part in this year's Ladies Who Tech Convention to hear from these wonderful speakers and more at Andaz Xintiandi, Shanghai on Saturday 11-May!